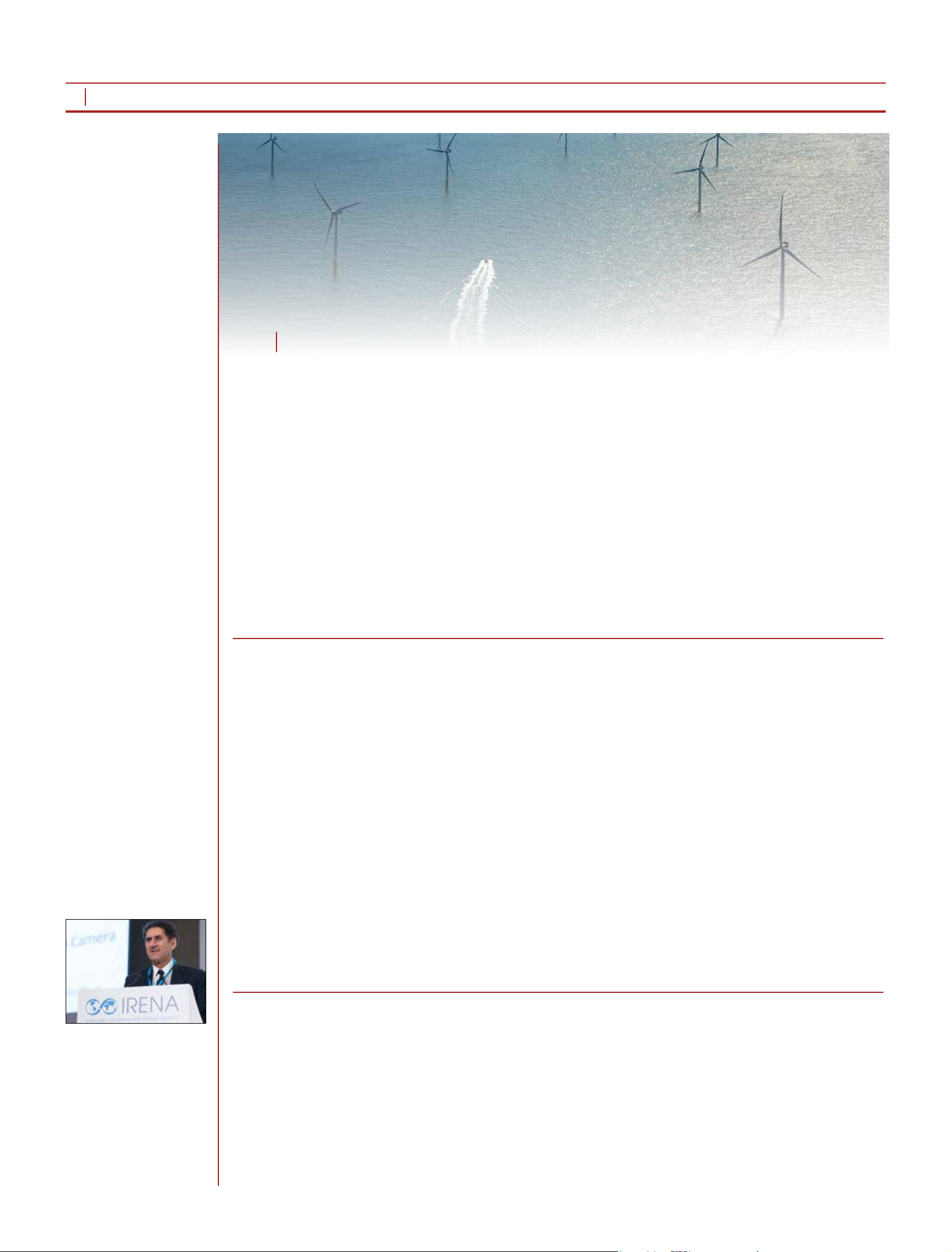 THE ENERGY INDUSTRY TIMES - MAY 2023
2
Junior Isles
The signing of a contract between
TenneT and four cooperation partners
to develop the North Sea as a hub for
sustainable and independent Euro
-
pean energy production will go a sig
-
nicant
way to
the EU
realising its
ambition for offshore wind and bring
the world closer to reaching increased
targets.
In April, top representatives of the
transmission system operator TenneT,
the Hitachi Energy/Petrofac coopera
-
tion and the three consortium partner
-
ships GE/Sembcorp (SMOP), GE/
McDermott and Siemens Energy/
Dragados
ofcially
signed
the
con
-
tracts in Berlin to seal Europe's larg
-
est-ever tender award for energy tran
-
sition infrastructure.
The total volume of the contracts for
the components of the 14 systems
amounts to around €30 billion. The
result will be a transmission capacity
of offshore wind energy in the German
and Dutch North Sea that will gener
-
ate as much electricity as 28 large-
scale power plants.
With the signing, TenneT has now
completed the process of awarding
contracts for the sea- and land-based
converter stations for a total of 14
offshore grid connection systems,
which was launched in August 2022.
TenneT had already awarded 11 of
these systems at the end of March,
eight of them in the Netherlands and
three in Germany. Three more sys
-
tems in Germany were added last
month. These 14 systems are to be
realised by 2031.
Their "core components", i.e. the
innovative 2 GW HVDC technology
for converting alternating current into
direct current and back, will be man
-
ufactured exclusively at European
production sites of the consortiums'
members in all projects.
The company stated in a press re
-
lease: "With a contract of this magni
-
tude, Europe will be taking a global
lead – in terms of both technology and
production – in a key sector of tomor
-
row's energy supply."
Tim Meyerjürgens, COO of TenneT,
said: "As the leading offshore trans
-
mission system operator in the EU, we
have the know-how needed to make
Europe's goal of securing an indepen
-
dent supply of renewable energies a
reality. To achieve this, the North Sea
must be developed as Europe's green
powerhouse and quickly connected to
the electricity grids on land. We are
acting and investing accordingly. Our
2 GW Program will help make green
wind energy from the North Sea scal
-
able and
more cost-efcient
– while
continuing to minimise any impacts on
the environment."
All agreements apply to both the
offshore and onshore converter sta
-
tions and the associated HVDC tech
-
nology. The contracted suppliers will
start the preparatory work for the
projects immediately.
The deal was signed as Amprion
GmbH, one of the four transmission
system operators (TSOs) in Germany
said it intends to spend about €22 bil
-
lion ($24.23 billion) in the next ve
years to expand and upgrade the coun
-
try's power grid with the aim to enable
the integration of more renewable
energy.
The focus of the investment strategy
is on the expansion of the north-south
direct current corridors on land, which
will allow the distribution of wind
energy from Germany's north to the
south and the construction of four
offshore grid connections that will
transport power from offshore wind
farms to the mainland.
Germany, along with the UK, is
among the leaders in the global charge
to accelerate offshore wind. Accord
-
ing to the latest market outlook from
Wood Mackenzie, the next ten years
will see an intensied focus on off
-
shore wind as the sector matures and
technology innovation and supply
chain development help make off
-
shore development more accessible in
different regions.
The company's ten-year outlook
forecasts a seven-fold increase in
global offshore wind capacity in 30
countries, with European countries
and China accounting for 81 per cent
of capacity additions.
that they will rely on the energy
superpowers of solar and wind in
order to phase-out fossil fuels," said
Dave Jones, head of data insights at
energy think-tank Ember.
In a study issued just ahead of the
G7 meeting, the think-tank said the
power sector could have reached a
tipping point in its transition to clean
power. It said electricity emissions
grew by 1.3 per cent last year to hit
a record high, fuelled by a small
increase in coal use to meet growing
electricity demand after the end of
the Covid-19 lockdowns, but 2022
will probably be the last year the
global power sector will see growth
in greenhouse gas emissions.
Green power met 80 per cent of
the increase in electricity demand
as economies opened up after the
lockdowns, with coal generation
increasing by just 1.1 per cent dur
-
ing 2022.
In a new report that draws on 2022
data from 78 countries covering 93
per cent of global electricity de
-
mand, Ember says record deploy
-
ments of renewable power last year
pushed wind and solar to a new high
of 12 per cent of electricity genera
-
tion, up from 10 per cent in 2021.
Ember's 'Global Electricity Re
-
view 2023' suggests that clean
sources of energy, which include
hydro, nuclear and bioenergy as
well as wind and solar, now account
for nearly 40 per cent of the world's
electricity supply.
The report also noted that the EU
increased its solar power generation
by 24 per cent in 2022 in line with
the global average, whereas EU
wind power generation grew 9 per
cent year-on-year, just over half the
average global growth of 17 per
cent.
The pace of growth in clean pow
-
er will accelerate in 2023 and be
-
yond, according to the Ember re
-
port, as developers take advantage
of falling technology costs and fa
-
vourable government policies to
roll-out more cheap green electric
-
ity generation.
But despite the accelerating
growth the global energy transition
remains off-track. At the end of
March, IRENA's 'World Energy
Transitions Outlook 2023 Preview'
called for a "fundamental course
correction" in the energy transition.
To keep 1.5°C alive, it said deploy
-
ment levels must grow from some
3000 GW today to over 10 000 GW
in 2030, an average of 1000 GW
annually. Deployment is also lim
-
ited to certain parts of the world.
China, the EU and the US account
-
ed for two-thirds of all additions last
year, leaving developing nations
further behind.
IRENA's Director-General Fran
-
cesco La Camera said, "The stakes
could not be higher. A profound and
systemic transformation of the
global energy system must occur in
under 30 years, underscoring the
need for a new approach to acceler
-
ate the energy transition. Pursuing
fossil fuel and sectoral mitigation
measures is necessary but insuf
-
cient to shift to an energy system t
for the dominance of renewables."
Continued from Page 1
According to S&P Global Ratings, the
European Commission's proposals to
reform Europe's power market should
accelerate investment in renewable
energy by supporting the extension of
contracts for difference (CfD) schemes
and market-based power purchase
agreements (PPAs).
Indeed, S&P now expects that the
majority (50 -55 per cent, or 63 per cent
including hydro) of Western Europe's
electricity will stem from wind and
solar generation in 2030, up from about
26 per cent this year and 20 per cent in
2019.
The ratings agency said the extension
of two-sided CfD schemes to the entire
EU strengthens price visibility for de
-
velopers. These offtake agreements
take away both the uncertainty of long-
term market prices and, in the case of
renewables, the risk of intraday price
uctuations.
It also noted that the Commission's
proposal for PPAs requires EU mem
-
bers to ensure availability of counter
-
party risk guarantees. Such a guaran
-
tee-mechanism, it said, could allow
more corporates to enter into PPAs
and extend their tenors, as well as sup
-
port more stable remuneration for
renewable energy source (RES) proj
-
ect assets.
Power market reform will be central
to the EU achieving its increased re
-
newables ambition.
In late March, the European Union
countries and negotiators from the
EU's parliament reached a provisional
deal to raise the share of renewables in
the bloc's energy mix.
The European Council, which repre
-
sents the 27 member nations, said the
agreement reached after all-night ne
-
gotiations would raise the renewable
energy target to 42.5 per cent of total
consumption by 2030. The current goal
is 32 per cent.
To meet the EU's goal of becoming
climate neutral by 2050, the EU's ex
-
ecutive commission supported a tar
-
get of 45 per cent. The council and the
European Parliament left a door open
for such an increase, agreeing on "an
additional 2.5 per cent indicative top
up" that would allow it to reach 45 per
cent.
European Commission President Ur
-
sula von der Leyen said the agreement
would allow "for more ambition and
faster roll-out" of renewables. "This
will help us progress towards climate
neutrality, strengthen our energy secu
-
rity and boost our competitiveness, all
at once," von der Leyen said.
The Commission has since proposed
to revise elements of the Clean Energy
Package to support development of
offshore wind. A Proposal for a Regu
-
lation would amend the Internal Mar
-
ket in Electricity Regulation
((EU/2019/943) and Directive ((EU)
2019/944).
Recitals state that to reduce invest
-
ment risk for offshore project develop
-
ers and ensure projects have full access
to surrounding markets, TSOs should
guarantee access of the offshore project
to the capacity of any hybrid intercon
-
nectors for all market time units.
Under the IME Regulation, when al
-
locating congestion income, priority
currently is given to guaranteeing
availability of the allocated capacity
and to maintaining or increasing cross-
zonal capacity.
A third priority would be added: com
-
pensating offshore generators if access
to interconnected markets has been
reduced in such a way that one or more
TSOs have not made enough capacity
available on the interconnector or the
critical network elements affecting the
capacity of the interconnector, result
-
ing in the offshore plant operator not
being able to export its generation ca
-
pability to the market.
Investment in grid infrastructure and
an economically efcient risk alloca
-
tion as between project developers and
TSOs is critical to delivering offshore
renewable energy at scale.
The Commission invites feedback
until 23 May 2023.
Low-carbon hydrogen – electrolysis
hydrogen emitting no or marginal car
-
bon – is emerging as one of the most
promising routes to accelerating the
decarbonisation of high-emission
sectors and a crucial facilitator in
achieving a greener future, says a new
report from the Capgemini Research
Institute.
The report: 'Low-Carbon Hydrogen
– A Path to
a Greener Future' nds
that 62 per cent of heavy industry
companies across sectors are looking
at low-carbon hydrogen to replace
carbon-intensive systems. On aver
-
age, Energy and Utilities (E&U) com
-
panies expect low-carbon hydrogen to
meet 18 per cent of total energy con
-
sumption by 2050. They are unlock
-
ing investment across the hydrogen
value chain, notably to develop hy
-
drogen infrastructure, cost-effective
electrolysers and fuel cells.
The report nds that most organisa
-
tions believe low-carbon hydrogen
(3.38 kg CO
2
-equivalent per kg of
hydrogen) will be a long-term con
-
tributor to achieving emissions and
sustainability goals. Some 63 per cent
of E&U organisations view low-car
-
bon hydrogen as critical for decarbon
-
ising economies, and 62 per cent be
-
lieve it can help nations reduce
dependence on fossil fuels and pro
-
mote energy independence.
According to those surveyed, low-
carbon hydrogen could meet up to 55
per cent of hydrogen mix totals by
2050. On average, 0.4 per cent of total
annual revenue is earmarked for low-
carbon hydrogen by E&U organisa
-
tions by 2030, in particular for hydro
-
gen energy transport and distribution
(53 per cent), production (52 per cent)
and R&D (45 per cent).
n
RES and Octopus Energy Genera

-
tion's green hydrogen joint venture
HYRO has signed a deal to develop
electrolysers that will be used to pro
-
duce green hydrogen for use in place
of gas at two Kimberly-Clark UK
manufacturing facilities.
EU electricity market reform should accelerate renewables
EU electricity market reform should accelerate renewables
investment, says S&P Global Ratings
investment, says S&P Global Ratings
Heavy industries to leverage low-carbon hydrogen to achieve
Heavy industries to leverage low-carbon hydrogen to achieve
sustainability targets
TenneT deal is boost for
global offshore wind ambition
global offshore wind ambition
La Camera says "the stakes
could not be higher"
n
Deals signed worth €30 billion
n
Global offshore wind to increase seven-fold