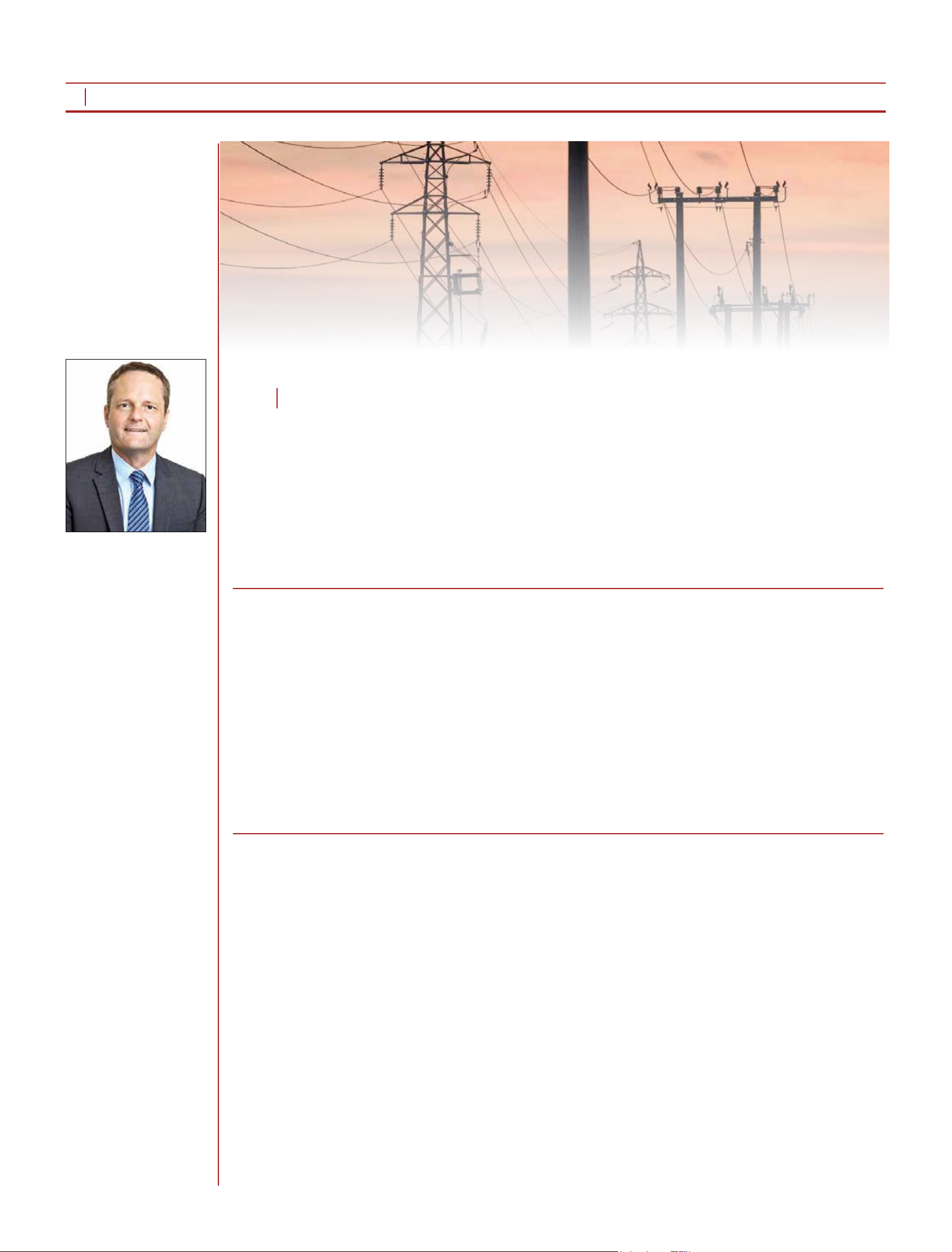 THE ENERGY INDUSTRY TIMES - SEPTEMBER 2022
2
Junior Isles
European power prices hit new highs
last month and show no signs of abat
-
ing as natural gas extended gains, says
independent energy research consul
-
tancy Rystad Energy AS.
According to the company, next-year
electricity rates in Germany advanced
as much as 3.7 per cent to €477.50/
MWh ($487/MWh) on the European
Energy Exchange AG. This was almost
six times as much as this time last year,
with the price doubling in the past two
months alone.
Commenting on the latest numbers
Rystad Energy analyst Fabian Ronnin
-
gen said: "There's no clear sign of the
extreme price rally abating soon. The
continent's low nuclear, hydropower
and coal capacities aren't enough to
help ease that pressure."
The market price is being driven by
concerns over whether Europe's tight
gas supplies will be able to generate
enough electricity this winter. France's
nuclear capacity is extremely low,
denting the possibility of power ex
-
ports in the months ahead.
According to the forecast, European
electricity prices are expected to peak
during the winter of 2022-2023.
Day-ahead prices in Germany and the
UK also set records last month, an in
-
dicator of high demand for cooling,
with heat waves and drought on the
continent straining infrastructure in the
short-term.
According to the International En
-
ergy Agency (IEA), wholesale power
prices
in
the
rst
half
of
2022
were
three to more than four times as high
as the average in the rst half of 2016
to
2021,
primarily
due
to
gas
prices
climbing to more than ve times the
value of the reference period.
The IEA price index, representing the
moving average of weighted prices in
the main electricity markets for four
quarters, reached almost 300 points in
the second quarter of 2022, indicating
three times higher average wholesale
prices than in the reporting period of
2016, and 60 per cent higher prices than
over the same quarter of 2021. The IEA
also forecasts that European electricity
prices are expected to peak during the
coming winter.
With energy driving ination across
Europe, the deepening energy crunch
is threatening to plunge the region into
a recession.
In the UK, it was recently announced
that the household energy price cap
will increase by 80 per cent at the start
of October on the back of rising
wholesale costs. The wholesale price
of UK electricity for that month has
jumped about sevenfold in the past
year
to
roughly
£591/MWh
($713/
MWh) on the Intercontinental Ex
-
change AG.
In March the US Department of
Commerce agreed to investigate al
-
leged circumvention of anti-dump
-
ing and countervailing duties by
solar manufacturers in Southeast
Asia. The move has proven to be
damaging to the US solar sector as
it essentially froze the import of PV
cells and modules to the country.
The potential for retroactive tar
-
iffs along with supply chain snags
drove down solar installations in
the last quarter to their lowest
level since the start of the corona
-
virus pandemic, according to en
-
ergy and commodities consultancy
Wood Mackenzie.
Speaking to the
Financial Times

,
Tom Buttgenbach, Chief Executive
at 8Minute Solar, one of the biggest
utility-scale developers, comment
-
ed: "I need to know what my supply
chain
looks
like
in
four
to
ve
years."
Meanwhile, offshore wind power
developers are anxiously eyeing a
separate piece of legislation that
would require them to use only
American vessels and crews when
installing turbines. Pedro Azagra,
Chief Executive of Avangrid,
which owns utilities and is one of
the biggest US wind developers,
said: "It's something that is not
realistic. You do not have them and
it will take some time to build them,
some time to train the crews."
The IRA makes hundreds of mil
-
lions of US dollars available to gov
-
ernmental bodies to optimise and
accelerate the processes behind
bringing projects onto the grid. It
calls for comprehensive permitting
reform legislation to be passed be
-
fore
the
end
of the
scal year,
to
unlock domestic energy and trans
-
mission projects, which will lower
costs for consumers and help the US
meet its long-term emissions goals.
This includes offshore wind de
-
velopment and transmission proj
-
ects related to this energy infrastruc
-
ture, including interconnections.
The Act puts $100 million on dis
-
posal for the Secretary of Energy
until September 30, 2031 to carry
out activities related to the develop
-
ment of interregional electricity
transmission and transmission of
electricity generated by offshore
wind.
Notably, the bill seeks to kick-start
hydrogen by also offering tax cred
-
its for hydrogen production proj
-
ects, with the of tax credit for proj
-
ects based on the amount of carbon
equivalent emissions for each kilo
-
gramme produced, starting at a ba
-
sic
rate
of
$0.60/kg
of
hydrogen
produced.
This scale means that clean hydro
-
gen producers can receive tax cred
-
its of up to $3/kg. Experts say the
measures will make the US one of
the lowest cost hydrogen producers
in the world.
Continued from Page 1
Renewable energy sources, which ac
-
count for the bulk of annual invest
-
ments in power generation, are set to
provide the majority of Europe's
power by the end of the decade despite
global supply chain challenges.
According to a recent report by S&P
Global Ratings Renewables are fore
-
cast to increase to 60 per cent of pow
-
er generation in Europe by 2030, and
could approach 40 per cent in the US
and China, according to S&P Global
Commodity Insights (Platts).
BloombergNEF recently calculated
that global investment in renewable
energy totalled $226 billion in the rst
half of 2022, setting a new record for
the rst six months of a year. It said the
uptick in investment reects an accel
-
eration in demand for clean energy
supplies to tackle the ongoing global
energy and climate crises.
Its Renewable Energy Investment
Tracker 2H 2022 report says invest
-
ment in new large- and small-scale
solar projects rose to a record-breaking
$120 billion, up 33 per cent from the
rst half of 2021. Wind project nanc
-
ing was up 16 per cent from 1H 2021,
at $84 billion.
"Both sectors have been challenged
recently by rising input costs for key
materials such as steel and polysilicon,
as well as supply chain disruptions and
rising
nancing
costs,"
it
said.
"Yet,
today's
gures
indicate
that
investor
appetite is stronger than ever, in part
due to the very high energy prices cur
-
rently being seen in many markets
around the world."
As well as seeing booming project
investments, the rst half also saw an
all-time record for venture capital and
private equity investments into renew
-
ables
and
energy
storage,
with
$9.6
billion raised – up 63 per cent on the
previous year.
Albert Cheung, Head of Analysis at
BloombergNEF, said: "Policy makers
are increasingly recognising that renew
-
able energy is the key to unlocking en
-
ergy security goals and reducing depen
-
dence on volatile energy commodities.
Despite the headwinds presented by
ongoing cost ination and supply chain
challenges, demand for clean energy
sources has never been higher, and we
expect that the global energy crisis will
continue to act as an accelerant for the
clean energy transitio
n."
Global cumulative energy storage de
-
ployments are expected to reach 500
GW by 2031 but demand in Europe
lags behind China and the US despite
the region's
need for exible power
solutions.
According to Wood Mackenzie's
'Global Energy Storage Outlook' Eu
-
rope's demand lags behind as its grid-
scale market struggles to stabilise,
with only 159 GWh forecasted for the
region
by
2031,
compared
to
422
GWh for China and 600 GWh for the
US.
Commenting on the forecasts, Dan
Shreve, Global Head of Energy Stor
-
age at Wood Mackenzie, said:
"Growth has stalled in Europe as
regulatory barriers fail to improve
storage project economics. In addi
-
tion, limited access to power markets
and a lack of revenue stacking oppor
-
tunities, combined with a lack of ca
-
pacity market auctions, has lowered
investment for grid-scale storage as
-
sets in Europe."
Despite this, Germany's energy stor
-
age market continues to grow and is
set to become the third biggest energy
storage market by 2030, following the
US and China. With 32 GWh fore
-
casted for the country, 61 per cent from
the residential segment.
The European Commission's RE
-
PowerEU plan, launched as a means
of the EU weaning itself off Russian
fossil fuels, will boost the EU energy
storage market further as it pushes for
a higher share of renewable supply in
EU Member States. Europe has al
-
ready seen a 12 GWh increase since
the plan was launched in May 2022,
which set out a 600 GW target for the
solar PV market and pledged to ease
permitting processes for both storage
and PV systems.
"While REPowerEU does not set out
a
specic
target
for
energy
storage,
higher renewable supply targets will
drive demand for exible power solu
-
tions, including energy storage as
-
sets," Shreve said.
The report was followed shortly af
-
ter by an announcement by the Euro
-
pean Commission that it wants to
boost output of its own raw materials
needed for green energy. The plans,
still at an early stage, would lower
regulatory barriers to mining and pro
-
duction of critical materials such as
lithium, cobalt and graphite, needed
for batteries, wind farms, solar panels
and electric vehicles.
"Demand is increasing dramatically
due to the digital and green transition
of our society [but] we are too often
almost entirely dependent on imports,
while the geopolitics of supply chains
are increasingly unstable," said the
EU's internal market Commissioner
Thierry Breton.
Europe produces less than 1 per cent
of the world's lithium ion cells com
-
pared
with
China's
66
per
cent,
ac
-
cording to a report issued by JRC last
year. Mining lithium, however, has
challenges as demonstrated by Portu
-
gal's efforts to unearth large reserves.
A potential cornerstone of Europe's
green energy transition, the Barroso
mine in northeastern Portugal was
expected to start producing lithium for
electric vehicle batteries in 2020. But
the mine's owner, Savannah Resourc
-
es, has been forced to push the start
date back several times due to delays
in environmental approval. In July
Portugal's regulator added a phase to
the process, causing Savannah to reset
its rst production date again to 2026.
Meanwhile, demand continues to
grow. The EU target is for renewables
to produce 32 per cent of the bloc's
energy by 2030, potentially increas
-
ing to 45 per cent.
Dries Acke, Policy Director at So
-
larPower Europe, said the industry
body expected EU installations of
photovoltaic cells to reach an all-time
high of 34 GW this year, up from 28
GW in
2021. But
he
said
supply of
raw and processed materials would
determine the availability of solar
products.
Renewable energy sector dees supply chain
Renewable energy sector dees supply chain
challenges
EU needs energy storage but market lags behind
EU needs energy storage but market lags behind
US and China
prices abating soon
Buttgenbach called for
long-term policy certainty
With gas prices continuing to climb and low nuclear and hydropower output in Europe, there
is no sign that electricity prices will fall any time soon.