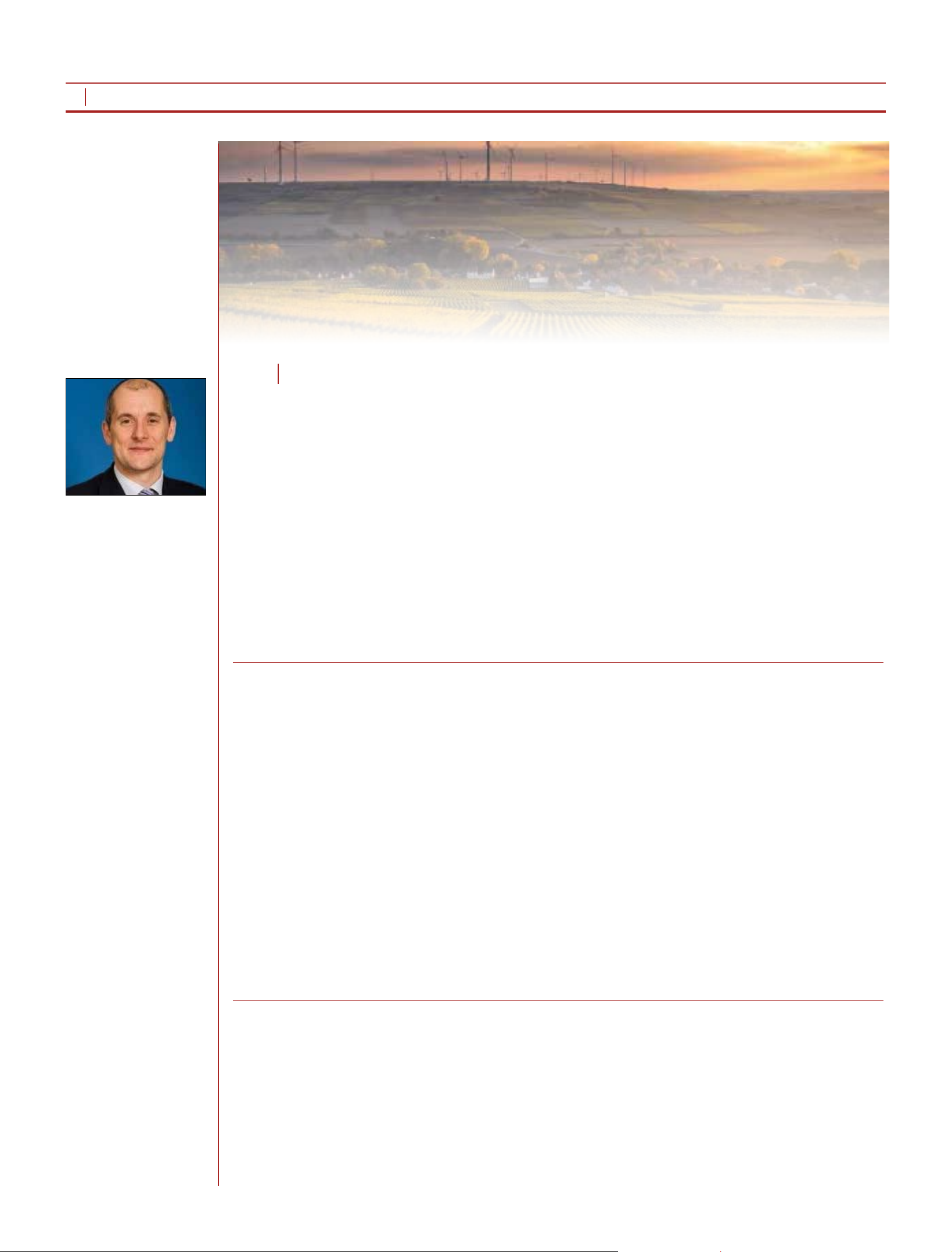 THE ENERGY INDUSTRY TIMES - MAY 2022
2
Junior Isles
The Intergovernmental Panel on Cli
-
mate Change (IPCC) has issued a re
-
port saying the world has the tools and
know-how required to limit warming
and halve emissions by 2030, but the
world must act now.
The report notes that major transi
-
tions in the energy sector will be re
-
quired to reach this target. This will
involve a substantial reduction in fossil
fuel
use,
widespread
electrication,
improved energy efciency, and use of
alternative fuels (such as hydrogen).
Without this, the IPCC warns that
limiting global warming to 1.5°C is
beyond reach.
"We are at a crossroads. The deci
-
sions we make now can secure a live
-
able future. We have the tools and
know-how required to limit warming,"
said IPCC Chair Hoesung Lee.
"I am encouraged by climate action
being taken in many countries. There
are policies, regulations and market
instruments that are proving effective.
If these are scaled up and applied more
widely and equitably, they can support
deep emissions reductions and stimu
-
late innovation."
The report also demonstrates that
while
nancial
ows
are
a
factor
of
three to six times lower than levels
needed by 2030 to limit warming to
below 2°C, there is already sufcient
global capital and liquidity to close
investment gaps.
However, it relies on clear signalling
from governments and the interna
-
tional community, including a stronger
alignment of public sector nance and
policy.
Without taking into account the eco
-
nomic benets of reduced adaptation
costs or avoided climate impacts,
global Gross Domestic Product (GDP)
would be just a few percentage points
lower in 2050 if we take the actions
necessary to limit warming to 2°C or
below, compared to maintaining cur
-
rent policies, said the IPCC.
According to the report, having the
right policies, infrastructure and
technology in place to enable changes
to lifestyles and behaviour can result
in a 40-70 per cent reduction in green
-
house gas emissions by 2050.
The IPCC says the next few years are
"critical".
"It's now or never, if we want to
limit global warming to 1.5°C," said
IPCC Working Group III Co-Chair Jim
Skea. "Without immediate and deep
emissions reductions across all sectors,
it will be impossible."
In the scenarios assessed, limiting
warming to around 1.5°C requires
global greenhouse gas emissions to
peak before 2025 at the latest, and be
reduced by 43 per cent by 2030; at the
same time, methane would also need
to be reduced by about a third. It says,
however, that even if this is achieved,
it is "almost inevitable" that the tem
-
perature threshold will be exceeded
temporarily but could return to below
it by the end of the century.
It noted that the industrial sector ac
-
counts for about a quarter of global
emissions. The reports stresses that
achieving net zero will be challenging
and will require new production pro
-
cesses, low and zero emissions elec
-
tricity, hydrogen, and, where neces
-
sary, carbon capture and storage.
Notably, at the end of March the Eu
-
ropean Commission allocated €1.1bil
-
lion to seven large-scale climate proj
-
ects, including a "CCS value chain"
scheme based in Belgium to capture,
liquefy, ship, and permanently store
carbon.
Sushil Purohit, President of Wärtsilä
Energy said the IPCC report would
give the carbon removal industry a "bit
of a boost". Wärtsilä Energy has in
-
vested in one so-called direct air cap
-
ture start-up, Soletair Power. "We will
keep looking at this space with some
interest," he said.
Meanwhile, following the release of
the IPCC report, Swiss-based Clime
-
works, which builds direct air capture
systems said it had raised $600 million
from investors including the Singapor
-
ean fund GIC, and Edinburgh-based
Baillie Gifford.
been taken out of EU hands when
Russian President Vladimir Putin
signed a decree demanding that na
-
tions deemed "unfriendly" must
pay for gas deliveries in roubles
from April, using an account in the
Russian currency at Gazprombank,
or face a halt in supplies.
Poland and Bulgaria became the
rst victims of the decree when Rus
-
sia halted gas supplies to the coun
-
tries following their refusal to pay
in roubles. Supplies from Gazprom
cover about 50 per cent of Poland's
consumption and about 90 per cent
of Bulgaria's.
Commenting on the Kremlin's
decision, von der Leyen said Russia
was using gas "as an instrument of
blackmail".
Nathan Piper, head of oil and gas
research at Investec, told the
BBC
the halting of supplies to Poland and
Bulgaria was the "start of Russia
exerting economic pressure on Eu
-
rope", and a move which could
"escalate" with other EU nations.
Poland's Deputy Foreign Minis
-
ter said the country could cope
without Gazprom's gas and had
"taken some decisions many years
ago to prepare for such a situation".
Its climate ministry said the coun
-
try's energy supplies were secure.
Climate Minister Anna Moskwa
said there was no need to draw gas
from reserves, and gas to custom
-
ers would not be cut.
Poland was already planning to
stop importing Russian gas by the
end of the year, when its long-term
supply contract with Gazprom
expires.
Marcin Przydacz, Poland's Un
-
dersecretary of State for Security,
the Americas, Asia and Eastern
Policy, told the BBC there were "op
-
tions to get the gas from other part
-
ners", including the US and gulf
nations. "I'm pretty sure that we will
manage to handle this," he said.
Elsewhere, other countries have
been taking steps in preparation for
suspension of gas from Russia.
At the beginning of April Lithu
-
ania became the rst EU country to
cut off Russian gas supplies com
-
pletely, with the two other Baltic
states also temporarily stopping
their ow in response to Moscow's
invasion of Ukraine. Russian gas
also
stopped
owing
into Estonia
and Latvia on April 1.
The three Baltic states have been
among the loudest voices urging the
EU to end its members' dependence
on Russian oil and gas.
Meanwhile, in late April the Dan
-
ish government made a new pro
-
posal to accelerate and expand the
development of new energy is
-
lands. Denmark already plans to
build the world's rst energy island
in the North Sea, with a maximum
capacity of 10 GW. Another energy
hub will be established on the is
-
land of Bornholm in the Baltic Sea
with a capacity of 2 GW. A provi
-
sional estimate shows an initial
demand for at least 35 GW of off
-
shore wind from the Danish parts
of the North Sea.
Continued from Page 1
Economists have warned that many of
the measures to protect consumers and
businesses from soaring energy prices,
made worse by Russia's invasion of
Ukraine, could backre.
Germany, France, Italy and Spain –
the EU's four largest countries – plan
to cut taxes or fund rebates on fuel,
electricity or natural gas, in an attempt
to shield their economies from spiral
-
ling costs.
However, some economists argue
that the series of measures, amounting
to €80 billion, may exacerbate the
problem by reducing the incentive for
households and businesses to reduce
their consumption of electricity and
fuel, thus making it harder to reduce
dependence on Russian fossil fuels.
Rüdiger Bachmann, Economics Pro
-
fessor at the University of Notre-
Dame, said: "You want the price
mechanism to have its effect, by signal
-
ling that a good is scarce, so people
decide if they want to change their
behaviour."
The Bruegel think-tank found that 17
countries were also cutting taxes or
duties on energy, while 10 countries
were regulating retail energy prices and
three were regulating wholesale prices.
The French government has capped
the increase in household electricity
bills, a move expected to slash French
state-owned energy group, EDF's
earnings by €10 billion when com
-
bined with a requirement to sell its
nuclear power below wholesale rates.
Klaus Adam, Economics Professor at
the University of Mannheim, stated in
the
Financial Times

: "The subsidy on
household energy is crazy – it reduces
the incentive to reduce energy con
-
sumption. Give everyone an amount
each month and let them decide if they
want to use it to pay the higher gas
prices or if they want to save energy
consumption and spend it on some
-
thing else."
Veronika Grimm, a member of the
council of economic experts, which
advises the German government, crit
-
icised the latest package of measures
announced last month to help busi
-
nesses with high energy prices.
The package will include a time-
limited
and
"narrowly
dened
cost
subsidy" for companies whose elec
-
tricity costs have at least doubled since
last year. "It is very unfortunate to
subsidise the use of fossil fuels by di
-
rectly subsidising energy consump
-
tion," Grimm told
Die Welt

newspaper.
"Ultimately, this keeps the gas price
high on the exchanges."
At the end of March Spain and Por
-
tugal submitted a proposal to the Eu
-
ropean Commission requesting per
-
mission to set a maximum reference
price for gas of €30/MWh and thus
force a sharp reduction in the price of
electricity. If accepted, experts esti
-
mate that the price of electricity would
fall from over €200/MWh at present to
around €100/MWh. The proposal has
been met with concern by the Euro
-
pean Commission, which believes
such a low ceiling could distort the
market beyond what is acceptable.
The President of the European Com
-
mission, Ursula Von der Leyen, has
committed to "special treatment" for
Spain and Portugal due to the Iberian
peninsula energy island status.
Short-term interventions addressing
the current energy crisis must be ac
-
companied by a steadfast focus on
mid- and long-term goals of the en
-
ergy transition, according to the World
Energy Transitions Outlook (WTO)
2022.
Launched by the International Re
-
newable Energy Agency (IRENA),
the WTO sets out priority areas and
actions based on available technolo
-
gies that must be realised by 2030 to
achieve net zero emissions by mid-
century. It also takes stock of progress
across all energy uses to date, clearly
showing that the current pace and
scale of the renewables-based transi-
tion is inadequate.
"The energy transition is far from
being on track and anything short of
radical action in the coming years will
diminish, even eliminate chances to
meet our climate goals," said Fran
-
cesco La Camera, Director-General of
IRENA.
The Outlook sees investment needs
of $5.7 trillion per year until 2030
including the imperative to redirect
$0.7 trillion annually away from fos
-
sil fuels to avoid stranded assets. But
investing in the transition would bring
concrete socioeconomic and welfare
benets,
adding
85
million
jobs
worldwide, it said.
Meanwhile,
a new rst-of-its-kind
modelling commissioned by Carbon-
Free Europe claims that the optimal
energy mix for Europe to achieve its
net zero goals at lowest cost would be
to generate 20 per cent of its electric
-
ity from nuclear, 18 per cent from
offshore wind, 27 per cent from
onshore wind, 27 per cent from solar,
and 8 per cent other resources like
biomass, geothermal, and hydropow
-
er by 2050.
Pursuing a 100 per cent renewable
energy strategy would cost the EU at
least €80 billion ($84.3 billion) more
a year by 2050, it says, and require the
bloc to quadruple its electricity gen
-
eration compared to a tripling in
other net zero pathways.
The modelling also calculates the
EU needs to add over 2000 GW of
clean energy by 2050.
Economists question efforts to protect
Economists question efforts to protect
energy users from high prices
energy users from high prices
Energy transition is key to tackling global energy and climate crisis
Energy transition is key to tackling global energy and climate crisis
IPCC urges immediate action
IPCC urges immediate action
to halve emissions by 2030
to halve emissions by 2030
Piper: halting gas supplies is
"the start of exerting economic
pressure on Europe"
n
"Almost inevitable" the temperature threshold will be exceeded temporarily
n
Right policies, infrastructure and technology can result in a 40-70 per cent reduction in
emissions by 2050.