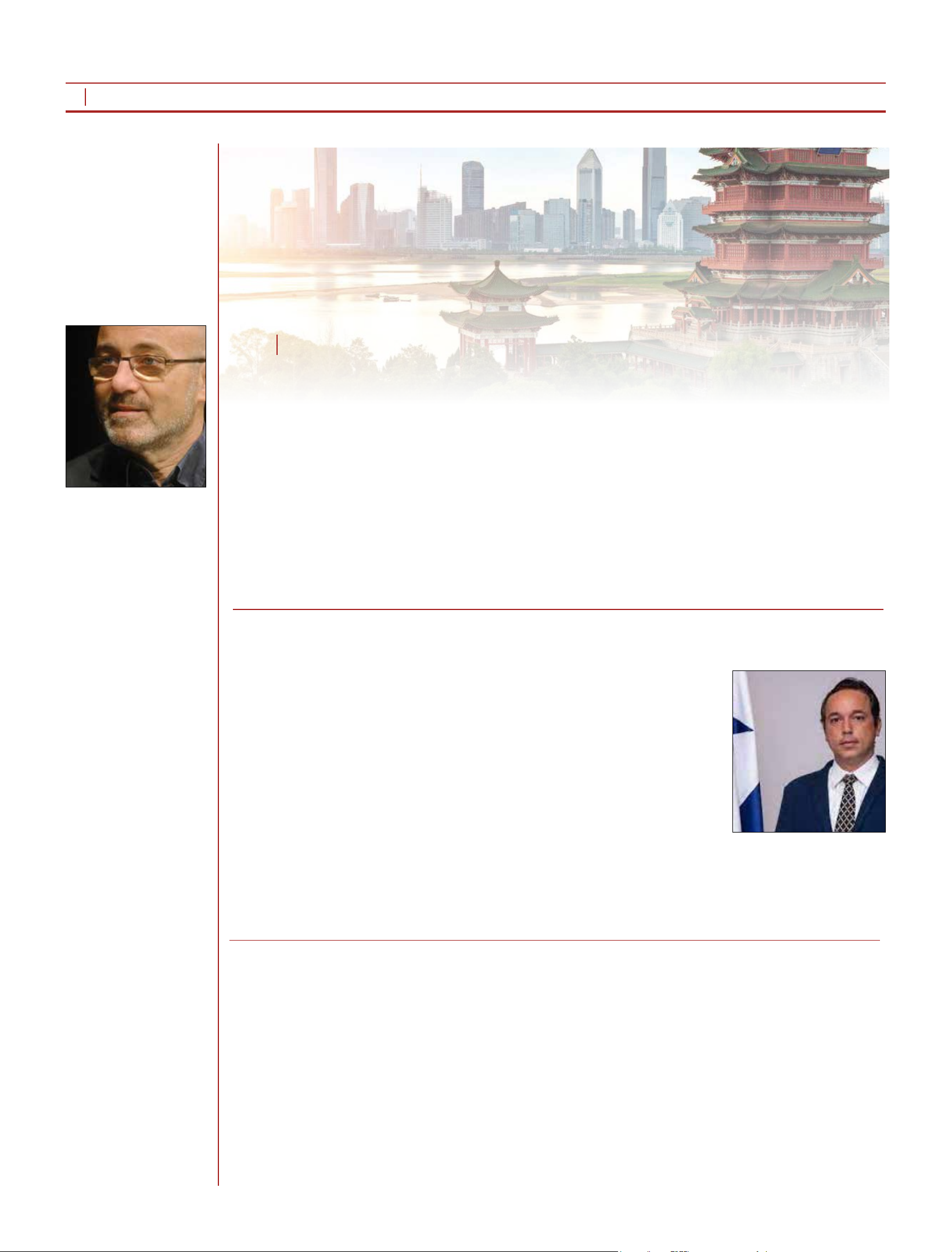 THE ENERGY INDUSTRY TIMES - OCTOBER 2021
2
Junior Isles
China's recent promise to end the 
-
nancing of new coal power plants over
-
seas has been hailed as "signicant" in
light of the upcoming COP26 climate
summit.
The pledge made by President Xi
Jinping last month in a speech to the
United Nations General Assembly was
welcomed by global leaders, who
stressed that China needed to also
phase-out the use of coal domestically.
"China will step up support for other
developing countries in developing
green and low carbon energy, and will
not build new coal red power projects
abroad," Xi said, but he stopped short
of ending coal red projects at home.
Dozens of new coal red power and
steel plants in China announced during
the rst half of 2021, if built, would
alone add 150 million tonnes in an
-
nual carbon dioxide emissions, accord
-
ing to research group Global Energy
Monitor (GEM).
Ending all support for coal has be
-
come a prime goal of the UN COP26
global climate summit scheduled for
Glasgow, UK, in November.
"This is an important development,
as China has been one of the biggest
nanciers of coal infrastructure in de
-
veloping countries, particularly in
Asia," said Alden Meyer, senior asso
-
ciate at E3G, a climate think-tank. But
he
said
it
was
also
"essential"
that
China stopped building new coal red
power stations at home and moved
away from the fuel to meet its climate
goals.
Globally, emissions are still rising, at
a time when scientists warn that they
need to fall almost 50 per cent by 2030
to avoid more extreme storms, heat
waves and drought.
China was the nancial backbone for
about half of the coal projects being
planned worldwide, in countries such
as South Africa, Vietnam, Indonesia
and Bangladesh, according to a report
by E3G.
Analysts at GEM said China's over
-
seas coal power retreat could wipe out
$50 billion of investment, affecting
44 coal plants earmarked for Chinese
state nancing. The country, however,
is isolated as the last major provider of
public nance for overseas coal plants,
with over 40 GW of plant in 20 coun
-
tries in the pre-construction pipeline.
The Asian Infrastructure Investment
Bank also welcomed China's an
-
nouncement, calling it "a bold and
consequential step for China, and for
the rest of the world".
The news followed New research
published by Sustainable Energy for
All (SEforALL) and Climate Policy
Initiative (CPI) that despite environ
-
mental, economic and many other
challenges facing coal, pockets of
funders continue to nance additional
coal red generation capacity in South
Asia and Sub-Saharan Africa.
From 2013 to 2019, $42 billion was
committed to grid-connected coal
power plants in the 18 countries stud
-
ied. Among them, Bangladesh, India
and Pakistan received the majority of
nance
commitments
to
new
coal
plants, while in Africa, Madagascar,
Mozambique, Malawi, Niger and
Tanzania all host active coal plant
development.
With many economies, including
South Korea, having pledged to stop
investing in coal projects, activists are
now turning their attention to oil and
gas.
At the end of August environmental
group Solutions For Our Climate
(SFOC) said South Korea's public
nancial
institutions
have
provided
more than $127 billion for global fos
-
sil fuel projects over the past decade.
South Korea is the second-biggest
public nancier of oil and gas projects
worldwide, after China, according to
SFOC.
government's measures go against
the efciency of the market, Euro
-
pean orthodoxy and create a climate
of legal uncertainty.
Iberdrola, the Spanish renewable
energy group, said the plan would
create more problems for custom
-
ers. "It will also undermine investor
condence in the country, at a criti
-
cal time when Spain needs billions
of euros of private investment to
deliver
the
projects
behind
ambi
-
tious climate change targets," Iber
-
drola said.
Italy was expected to follow suit,
as Energy Transition Minister Ro
-
berto Cingolani said retail power
prices in Italy were set to rise by 40
per cent in the next quarter.
Discussing the surge in gas prices,
Claudio Descalzi, Chief Executive
of Italy's Eni – one of the world's
largest oil and gas companies – said
that while governments were right
to try to accelerate the adoption of
renewable energy, they had chosen
to tackle supply of fossil fuels be
-
fore demand, contributing to tight
-
ness in the market.
"This is not something that is for
a limited time; it's structural," Des
-
calzi told the
FT
. "You cannot cut
supply without also reducing de
-
mand," he said, warning that grow
-
ing pressure from governments,
activists and investors had made it
very difcult for energy companies
to invest in gas supplies.
The IEA stressed that the recent
increases in global natural gas pric
-
es are the result of multiple factors.
"It is inaccurate and misleading to
lay the responsibility at the door of
the
clean
energy
transition,"
said
IEA Executive Director Fatih Birol.
"Today's situation is a reminder to
governments, especially as we seek
to accelerate clean energy transi
-
tions, of the importance of secure
and affordable energy supplies –
particularly for the most vulnerable
people in our societies. Well-man
-
aged clean energy transitions are a
solution to the issues that we are
seeing in gas and electricity markets
today – not the cause of them."
Kadri Simson, EU Energy Com
-
missioner, commented: "The cur
-
rent situation makes the case for the
Green Deal policies even stronger.
We need more change, not less, and
faster. The only real, long-term, so
-
lution here is to increase the share
of renewable energy, which is al
-
ready generally the cheapest energy
on the market."
Going forward, the European gas
market could well face further stress
tests from unplanned outages and
sharp cold spells, especially if they
occur late in the winter, noted the
IEA. Gas storage levels in Europe
are well below their ve-year aver
-
age but not markedly below their
previous
ve-year
lows,
which
were reached in 2017, it said.
Continued from Page 1
Panama's National Energy Secretary
Dr. Jorge Rivera Staff has called for a
regional approach to tackling climate
change on the road to the UN's COP26
climate summit in November.
In the leadup to the High-Level Dia
-
logue on Climate Action in the Amer
-
icas, co-hosted by Panama, last month,
Dr. Rivera Staff, said Latin America
was one of the most vulnerable areas
to climate change but is one of the low
-
est contributors to greenhouse gas
emissions. He explained that it was
important to voice this as a unied re
-
gional message at COP26.
"The countries that contribute the
most greenhouse gases have different
responsibilities to those that are low
emitters, like us. At COP26 we want
to stress the different responsibilities
and commitments. Right now, we are
taking a regional approach to align the
strategies of the stakeholders in each
[Latin American] country in order to
put climate change at the top of our
agenda as we drive a green recovery.
The high level dialogue is seen as a
milestone in this regional approach that
we are working on," he told
TEI Times

.
According to Dr. Rivera Staff, one of
the most pressing issues at COP26 will
be how to get promised nancing ow
-
ing to developing countries. In the
meantime, he said Panama was ensur
-
ing it has a "comprehensive and well
structured plan" for utilising those re
-
sources when they are unlocked.
"We have to use those resources in
the most efcient way, so we are align
-
ing our climate initiatives with the
economic recovery so we will be ready
to invest once we receive the money.
We are also exchanging best practices
with other countries."
He
added:
"We
are
very
condent
about a positive outcome at COP26.
We are seeing lot of specic steps being
taken in the run-up that we've not seen
in the last three or four years."
As one of only three carbon negative
countries in the world, Panama sets a
standard for other developed nations
to layer over their economic growth
with a commitment to sustainability.
The country has established a system
of incentives to foster the production
of energy from renewable sources, all
while creating jobs, protecting natural
resources and improving the electric
-
ity matrix.
Panama has an ambitious but practi
-
cal plan to move its economy away
from fossil fuels and into clean energy,
which will generate 70 per cent of the
nation's energy needs by 2050.
To achieve its 2050 goals, last year
the country approved its Energy Tran
-
sition Agenda 2030 with more specic
nearer-term targets. The agenda, ap
-
proved in November has ve specic
strategies for the electricity sector and
two for the hydrocarbon sector. The
inputs used for the agenda formed the
basis of Panama's Nationally Deter
-
mined Contributions submitted in
December last year.
The world will still fall "a long way
short" of achieving the 2050 net zero
emissions ambitions of the COP21
Paris Agreement even if all electricity
was 'green' from this day forward, says
a recent report.
According to DNV's Energy Transi
-
tion Outlook (ETO) 2021, electrica
-
tion is on course to double in size
within a generation and renewables are
already the most competitive source of
new power. However, the forecast
shows global emissions will reduce
only 9 per cent by 2030, with the 1.5˚C
carbon budget agreed by global econ
-
omies exhausted by then.
Remi Eriksen, Group President and
CEO of DNV, said: "We've seen
governments around the world take
extraordinary steps to manage the ef
-
fects of the pandemic and stimulate a
recovery. However, I am deeply con
-
cerned about what it will take for gov
-
ernments to apply the resolution and
urgency they have shown in the face
of the pandemic to our climate. We
must now see the same sense of ur
-
gency to avoid a climate catastrophe."
The report also says the pandemic
was a "lost opportunity", noting that
many of the pandemic recovery pack
-
ages have largely focused on protect
-
ing, rather than transforming, existing
industries.
"[There has been] A lot of 'building
back' as opposed to 'building better'
and although this is a lost oppor-
tunity, it is not the last we have for
transitioning faster to a deeply decar
-
bonised energy system," said Eriksen.
Energy efciency
remains
the
big
-
gest opportunity to tackling climate
change as the world drifts further away
from achieving Paris. Securing sig
-
nicant
improvement
in
this
area
is
viewed as the most signicant lever for
the transition, according to DNV. This,
it says, will see global energy demand
level off, even as the global population
and economy grows.
Reductions in the use of fossil fuels
have been remarkably quick, says the
report. These sources, however, espe
-
cially gas, will still constitute 50 per
cent of the global energy mix by 2050
– making the need to invest in and scale
hydrogen, and carbon capture and
storage all the more important. Oil de
-
mand looks set to halve, with coal use
reduced to a third by mid-century.
ETO 2021 also reveals that while 69
per cent of grid-connected power will
be generated by wind and solar in 2050,
and indirect electrication (hydrogen
and e-fuels) and biofuels remain criti
-
cal, although none of these sources are
scaling rapidly enough.
In a separate report, Arcadis, the
global design and consultancy organ
-
isation for natural and built assets, said
the global energy sector needs to halve
emissions this decade to reach net zero
and limit warming to 1.5˚C.
It said €6 trillion – approximately 7
per cent of global GDP – in investments
will be required to realise the transition.
Panama calls for regional approach on road to COP26
Panama calls for regional approach on road to COP26
Electrication not enough to meet net zero target
Electrication not enough to meet net zero target
China's retreat from coal seen
China's retreat from coal seen
as boost for climate talks
as boost for climate talks
Cingolani says Italy's retail
power prices set to rise 40 per
cent in the next quarter
Dr. Jorge Rivera Staff: "we
are aligning the strategies of
stakeholders"
n
China's coal retreat could wipe $50 billion from global coal plant investment
n
"Essential" that China stops building new domestic coal red power stations