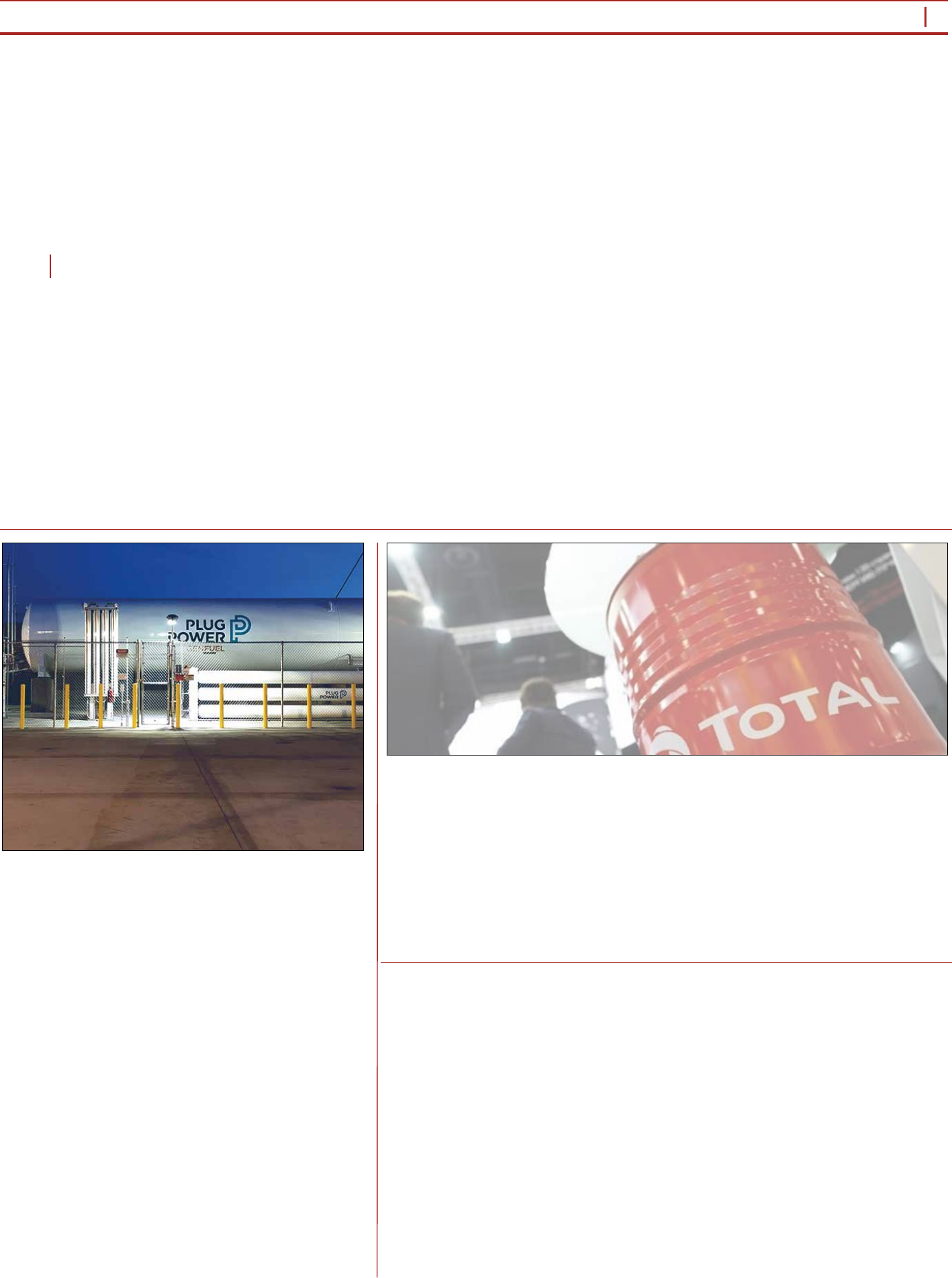 THE ENERGY INDUSTRY TIMES - FEBRUARY 2021
9
Junior Isles
Investment in green hydrogen is con
-
tinuing at breakneck speed as compa
-
nies continue to make acquisitions in
the space and investors ock to snap
up stocks.
In mid-January MAN Energy Solu
-
tions announced its acquisition of al
-
most 99 per cent of the shares in H-TEC
Systems, a manufacturer of PEM elec
-
trolysers based in Augsburg, Germany.
Subject to approval by the competi
-
tion authorities, MAN Energy Solu
-
tions has acquired the shares of the
previous majority shareholder, GP
Joule, adding to the 40 per cent stake
it previously took in the company in
2019. The remaining shares are cur
-
rently in free oat.
Dr. Uwe Lauber, Chief Executive
Ofcer
of
MAN Energy Solutions,
stated: "Green hydrogen is becoming
an incredibly important natural re
-
source on our journey to becoming a
climate-neutral global economy. With
the acquisition of H-TEC Systems,
from now on we will cover all process
-
ing steps of the hydrogen economy
under the umbrella of MAN Energy
Solution. By doing so, we are strategi
-
cally investing in our expertise as to
-
morrow's provider of sustainable en
-
ergy solutions and providing H-TEC
Systems with complete access to our
resources and sales networks at the
same time. However, the current other
shareholder GP Joule will remain an
important sales partner."
In a separate move, Sunre said it has
taken over IHT Industrie Haute Tech
-
nology SA, a Monthey, Switzerland-
based alkaline electrolysis company.
With this acquisition, the Dresden-
based company continues to expand its
green hydrogen portfolio to include
high-pressure alkaline water electroly
-
sis. The technology is particularly suit
-
able for use in environments where
water-steam is not readily available,
such as in hydrogen mobility.
The acquisition sees Sunre take a
100 per cent stake in IHT. The com
-
pany's headquarters in Monthey will
continue to play an important role in
the production of the stacks, which are
the main component of the high-pres
-
sure alkaline electrolysers. This year,
IHT will supply and install Europe's
largest single-stack alkaline pres
-
surised electrolyser to help regulate the
power grid and produce green hydro
-
gen for a project partner in Tyrol.
Experts say an unprecedented rally
in green hydrogen stocks looks set to
extend as investors ock to companies
that promise to produce the gas, ex
-
pecting the technology to scale up
over the next 10 years to justify rock
-
eting valuations.
Share prices of companies in the in
-
dustry have soared more than 500 per
cent in the past year, driven by the ris
-
ing adoption of zero-emission vehicles
and a deadline set by many countries
to go carbon-free by 2050.
"Hot money is owing towards re
-
newables and clean energy, and
there's been a clear re-rating of valu
-
ations in the sector," said Emmanuel
Cau, Head of European Equity Strat
-
egy at Barclays.
The frenzy in hydrogen-related
stocks has led to some concerns about
a bubble, with companies trading at
extreme prices based on expectations
that their revenue will surge in future,
despite worries about possible head
-
winds for the sector.
JP Morgan analysts, however, al
-
layed fears about a potential bubble.
The bank said in a recent note investors
should take advantage of any pullback
in prices and "take an unorthodox ap
-
proach to valuation for the next sev
-
eral years".
Sean McLoughlin, HSBC EMEA
Head of Industrials Research, told
Reuters
scarce value in the market,
unprecedented
scal
stimulus,
low
cost of capital and debt and low yields
in other asset classes mean the hydro
-
gen market's valuation may be justi
-
ed, though he cautioned it
was at a
"potentially fraught level".
In
a
move
that
reects
the
growing
interest in technology involving green
hydrogen, South Korean industrial
conglomerate SK Group has an
-
nounced it will invest $1.5 billion in
US hydrogen fuel cells provider Plug
Power Inc. as part of a new strategic
partnership between the two.
The terms of a newly-signed deal
call for a US subsidiary of SK Group
to buy about 51.4 million Plug Power
shares at $29.2893 each. This pur
-
chase would give SK Group a rough
-
ly 9.9 per cent stake in the hydrogen
specialist.
Subject to regulatory clearance, the
transaction is expected to close this
quarter.
The companies said the alliance is
aimed at accelerating hydrogen as an
alternative energy source in Asian mar
-
kets, where, particularly in Korea, they
plan to provide hydrogen fuel cell sys
-
tems, hydrogen fuelling stations and
electrolysers. A joint venture targeting
the Korean market is also being
planned.
Andy Marsh, CEO for Plug Power,
said: "The current relationship with
SK Group offers immediate strategic
benets to Plug Power to accelerate
its expansion into Asian markets – and
is intended to result in a formal joint
venture (JV) by 2022. Due to the
complementary strengths in this part
-
nership, we expect rapid growth and
signicant
revenue
generation
from
the joint venture that are incremental
to our 2024 plan."
The government of South Korea has
set a number of hydrogen-economy-
related objectives for the period
through 2040, including achieving
more than 5 million tonnes of hydro
-
gen per year, over 6 million fuel cell
electric vehicles (EVs), 1200 relling
stations and 15 GW of fuel cell power
generation. The cumulative economic
value of the country's hydrogen econ
-
omy is expected to reach $40 billion
by that time.
The deal highlights the increasing
value of fuel cell companies. In De
-
cember the combined market capitali
-
sation of the top three fuel cell – Plug
Power, Ballard Power and Bloom En
-
ergy – companies soared by 550 per
cent year-on-year to $20.8 billion, ac
-
cording to StockApps.com.
The increasing demand for clean en
-
ergy sources and the development of
environmentally-friendly urban trans
-
port systems in developed countries
had been driving the impressive
growth of the fuel cell industry. In the
next seven years, the entire market is
expected to rise by CAGR of 56 per
cent and hit a $24.8 billion value.
Energy entrepreneur Eddie O'Connor
and his management team have sold a
75 per cent equity stake in Mainstream
Renewable Power to Norwegian group
Aker Horizons in a deal that will enable
a rapid acceleration of Mainstream's
global expansion plans.
The deal, which values Mainstream
at €1 billion will help Mainstream
achieve its goal of bringing 5.5 GW of
wind and solar assets to nancial close
by 2023.
The company, founded by O'Connor
in
2008,
has
signicant
interests
across
Latin America, Asia-Pacic
and Africa, as well as in the global
offshore wind sector, with over 1.2 GW
of major capital projects currently un
-
der construction. Mainstream has a
major market presence in Chile, Africa,
and Vietnam, as well as assets in de
-
velopment in other countries including
the Philippines, Australia, and Colom
-
bia. The company will remain focused
on delivering its ~10 GW global de
-
velopment pipeline and growing its
portfolio in existing as well as new
markets, with the full backing of the
Aker ASA group.
Under the terms of the agreement, the
company will continue to operate as
Mainstream, led by its CEO Mary
Quaney and supported by its estab
-
lished and experienced leadership
team. O'Connor will remain as Chair
-
man, retaining a signicant minority
interest in the business and all existing
shareholders will have the opportunity
to reinvest alongside him ahead of a
planned IPO of Mainstream within the
next two to three years.
O'Connor commented: "This part
-
nership is the crucial next step in the
vision we set out for Mainstream in
2008 to lead the global transition to
renewable energy and rid the world
of CO
2
emissions. It means we can
widen our scope for entry into new
markets and further deepen and ex
-
pand our leadership position in exist
-
ing ones…"
French energy major, Total, is look
-
ing to strengthen its position in the
renewables sector through the acqui
-
sition of a 20 per cent stake in India's
Adani Green Energy in a $2.5 billion
deal.
Adani Green Energy Ltd (AGEL) is
owned by Indian tycoon Gautam Ad
-
ani, who has promised to build the
world's largest solar power company
by 2025. Adani Green Energy already
has more than 14.6 GW of contracted
renewable capacity.
The transaction will help strengthen
the strategic relationship between the
Adani Group and Total in India's green
energy
eld.
The
partnership
covers
investments
in
liqueed
natural gas
terminals, gas utility business, and re
-
newable assets across India.
"Given the size of the market, India
is the right place to put into action our
energy transition strategy based on two
pillars: renewables and natural gas,"
said Total's Chief Executive Patrick
Pouyanné.
Total said that the partnership with
AGEL in the renewable sector in India
would be a key to achieve its aim to
reach 35 GW of renewable energy ca
-
pacity by 2025, and adding 10 GW
annually afterward.
The investment announced in Janu
-
ary was at a nearly 40 per cent discount
based on AGEL's Rs1.5 trillion ($20
billion) market capitalisation. It also
grants the French group a 50 per cent
share in a 2.35 GW portfolio of solar
assets and gives it a seat on the com
-
pany's board.
India has set out ambitious targets for
renewables and gas, with the goal of
installing 175 GW of generating capac
-
ity based on renewable energy sources
by 2022.
Total boosts green
credentials through
Adani
Fuel cell
business
attracts interest
Mainstream sells majority stake
to Aker Horizons
hydrogen
n
MAN Energy Solutions and Sunre takeover electrolyser companies
n
Hydrogen stock share prices surge