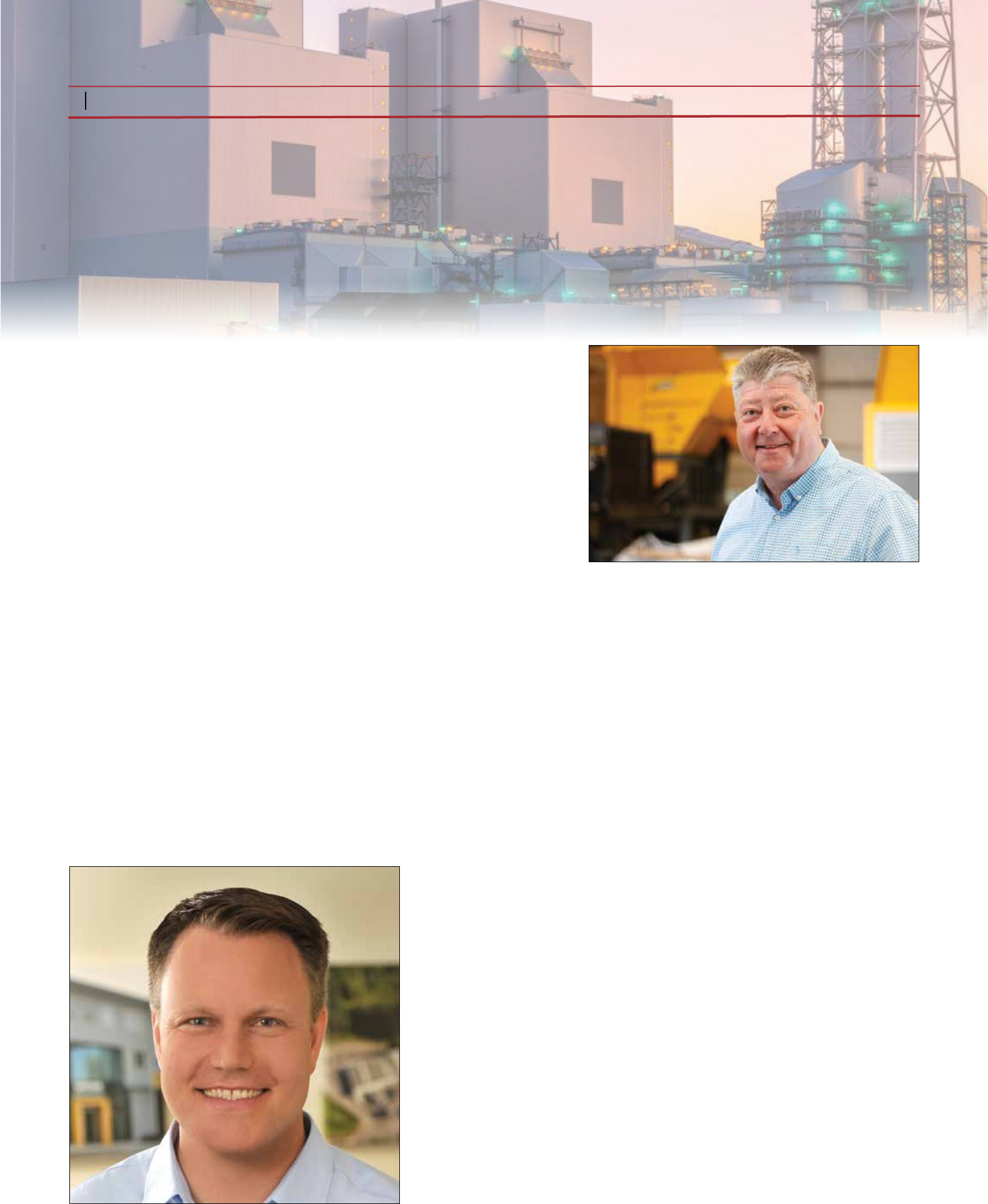 production waste into an SRF.
Co-processing facilities are not the
only innovators of course, nor are all
innovators large in size. But they do
often attract a signicant share of the
spotlight. And awareness plays an
important part in inspiring others to
think differently when it comes to
WtE.
External factors will continue to
encourage further WtE change across
the globe too. China's ban on plastic
waste imports has rocked the waste
industry – not just in the USA but
worldwide – so many operators are
going back to the drawing board
when it comes to their preferred treat
-
ment methods and routes to market.
This will see progress accelerate in
2020.
Public perception is another extra
-
neous variable that requires careful
management. While consumers are
generally becoming more vocal
about their passion for the planet,
many still don't want to live in close
proximity to a WtE plant. In the
USA, this is perhaps because some
mass burn facilities built in the 1980s
don't really represent what modern
WtE technologies are truly capable
of. They haven't always taken ad
-
vantage of the latest pre-treatment
methodologies, which ensure that
WtE
operations
are
scientic,
so
-
phisticated and incredibly clean.
This has left communities worrying
about the atmospheric implications
of RDF/SRF sites, so there's a huge
educational task to tackle, in banish
-
ing present-day misconceptions.
Armed with incentives such as a
carbon credit – as is being offered in
Canada – more businesses in the USA
may sit up and pay attention to the
potential that exists surrounding fuels
such as RDF, SRF and biomass. There
is
denitely
untapped
potential
and
2020 could be the year this starts to be
unlocked. We're bolstering our team
with the addition of more RDF/SRF
specialists to reect our condence in
the market.
Bernhard Martinz is President of
waste shredding specialist, UNTHA
America; Gary Moore is Director of
Global Business Development.
T
he utilisation of waste as an
energy source is not a new con
-
cept. Think about wood for
example – as one of the world's oldest
materials, it has been used to generate
heat for thousands of years. But, as
environmental thinking has evolved,
so too have efforts to prioritise the re-
use and recycling of wood, before it
is burned. And when it
does
come to
incineration, rened processing meth
-
ods mean that a specied biomass fuel
can now be created for maximum heat
efciency and therefore optimum en
-
vironmental gain.
However, even the use of wood – a
widely acknowledged energy source
– varies from country to country. In
places like Kenya and Nigeria, it re
-
mains a primary source of raw do
-
mestic energy, and the simplest of
scraps can help generate much needed
heat. In European nations such as
Germany, Sweden and Latvia, market
demand centres upon the consump
-
tion of a comparatively sophisticated
biomass fuel, with these countries
reported to be consuming around 74
per cent of the world's pellets.
There's a mixed picture back in
North America. Pre-consumer wood
waste has been virtually eliminated,
but the level of wood debris in MSW
(Municipal Solid Waste) and C&D
(construction and demolition)
streams, shows there's still room for
improvement, with millions of tons
of such recoverable material still
available, per year.
Some people – perhaps those out
-
side of the industry – will be surprised
to read this of such a developed
country. But here lies a key point. The
global waste landscape is extremely
fragmented, particularly when it
comes to waste-to-energy. This
doesn't just apply to the USA and
Canada. And it can't just be said for
wood.
European countries like Germany,
Denmark and Austria have been har
-
nessing the potential of alternative
fuels such as Refuse Derived Fuel
(RDF) and Solid Recovered Fuel
(SRF), for decades. Their waste infra
-
structures are therefore unsurprisingly
advanced. Investment has been sig
-
nicant and WtE plants are often even
considered something for the com
-
munity to be proud of. Elsewhere in
Europe there is a very different picture
entirely, with countries such as Ro
-
mania, Bulgaria and areas within the
Baltic states having a long way to go.
In Asia, Singapore has arguably led
the way in waste being recognised as
a national resource. Conversely in
other developing economies such as
Vietnam – where a waste collection
system barely exists – there is much
more work to be done.
This goes to show that it isn't pos
-
sible to paint a generic WtE picture
for one continent – or even a nation.
In the USA, attitudes towards WtE
are equally divided.
To a certain degree, legislation – or
the lack of it – has a part to play in
this. The EU Waste Directive – and
more specically the waste hierarchy
– guides environmental conscience in
much of Europe and encourages ev
-
eryone to think about the prioritised
actions for 'waste' handling.
In parts of the same continent, the
ban of certain high-caloric 'wastes'
from landll, has also driven signi
-
cant environmental progress. The fear
of regulatory non-compliance – and
the scal
penalties associated
with
this – has almost forced those in the
waste industry to think differently
about what to do with materials that
still contain a vast amount of resource
value.
In North America, on the other
hand, standpoints vary from state to
state due to the absence of a federal
law. Some momentum is gathering in
Canada and certain US states, but
waste contractors – and businesses in
general – are not
obligated
to do
anything, which remains a fundamen
-
tal reason why much depends on the
initiative and commitment of indi
-
vidual organisations.
This is not to say legislation is the
only factor that drives innovation, al
-
though it undeniably plays a crucial
part, certainly in motivating the
masses.
Commercial factors naturally come
into play too. Linked to the above
point, the introduction of a landll tax
was a huge catalyst for the UK better
committing to the aforementioned
waste hierarchy. The hike in the levy
– which rose to £80 per ton in 2013
and now stands in excess of £90 –
meant that disposing of waste wasn't
nancially feasible anymore.
In the USA, landll charges are
typically low. An UNTHA client in
Texas, for example, could dispose of
trash for as little as $30-35 per ton.
The incentive to invest in waste
treatment technologies that would
enable
landll
to
be
avoided,
is
therefore limited – irrespective of
environmental gain.
But
this
client
identied
rising
global demand for WtE fuels, not to
mention mounting societal pressures
to be kinder to the planet. They've
therefore worked hard to design an
intelligent yet economical SRF pro
-
duction plant able to manufacture a
renewable energy source for a limited
cost per ton.
The commercial viability of an RDF
or SRF manufacturing plant is height
-
ened when there is a guaranteed off-
taker of the fuel. This goes some way
to explaining why co-processing fa
-
cilities are growing in number in parts
of the world, including the USA.
Energy-intensive operations such as
cement kilns are increasingly moving
towards the production of their own
SRF for example, to reduce their reli
-
ance on the world's depleting fossil
fuels, secure their energy feedstock,
lower the
clinker factor in
their n
-
ished cement and contribute to a more
circular economy. This therefore sees
them source, process and transform
waste themselves – sometimes with
the help of a local partner – to produce
their own RDF/SRF either on site or
at an adjacent facility.
The global nature of many such
operations then promotes more wide
-
spread deployment of this co-pro
-
cessing approach, almost irrespective
of local WtE attitudes.
It is perhaps inevitable that co-pro
-
cessing facilities will become increas
-
ingly popular in 2020 and beyond,
regardless of environmental legisla
-
tion in the countries concerned.
Larger organisations often have more
dened 'green' agendas and are com
-
monly looked to as the pioneers for
change within industries such as WtE.
Their appreciation for the WtE po
-
tential of different input materials is
also inspiring. While MSW and C&I
waste is probably still the most com
-
mon RDF/SRF application – on the
whole – the potential doesn't end
there. The transformation of 'waste'
textiles, carpets and mattresses into
an energy source, is becoming in
-
creasingly common, for instance.
And not just in the Western world. In
Vietnam, UNTHA has been involved
in a project to convert footwear
THE ENERGY INDUSTRY TIMES - DECEMBER 2019
14
It has once again
been a year of
change for the waste-
to-energy sector, but
it would be naïve to
think that – when it
comes to alternative
fuel production –
there has been
unied progress
across the globe.
reect on the evolving
WtE landscape
in the USA and
further aeld, before
predicting what 2020
may have in store.
A year in WtE and what
lies ahead
Martinz: The global waste landscape is extremely fragmented,
particularly when it comes to waste-to-energy
Moore: There is denitely untapped potential and 2020 could be
the year this starts to be unlocked